Individual and Couples Counseling in Flower Mound, TX
Stanford Couples Counseling provides mental health services in Flower Mound and throughout the Dallas, Fort Worth (DFW) area. We work with couples at all stages of a relationship and individuals who need help coping with anxiety, depression, grief and more. Our holistic approach addresses underlying issues within relationships and individuals from various angles.
At Stanford Couples Counseling, you'll find an experienced team of professionals with extensive training eager to provide the tools you need to build a solid foundation for your relationship. Whether you're searching for individual or couples counseling, our Flower Mound therapy services can help guide you through your journey.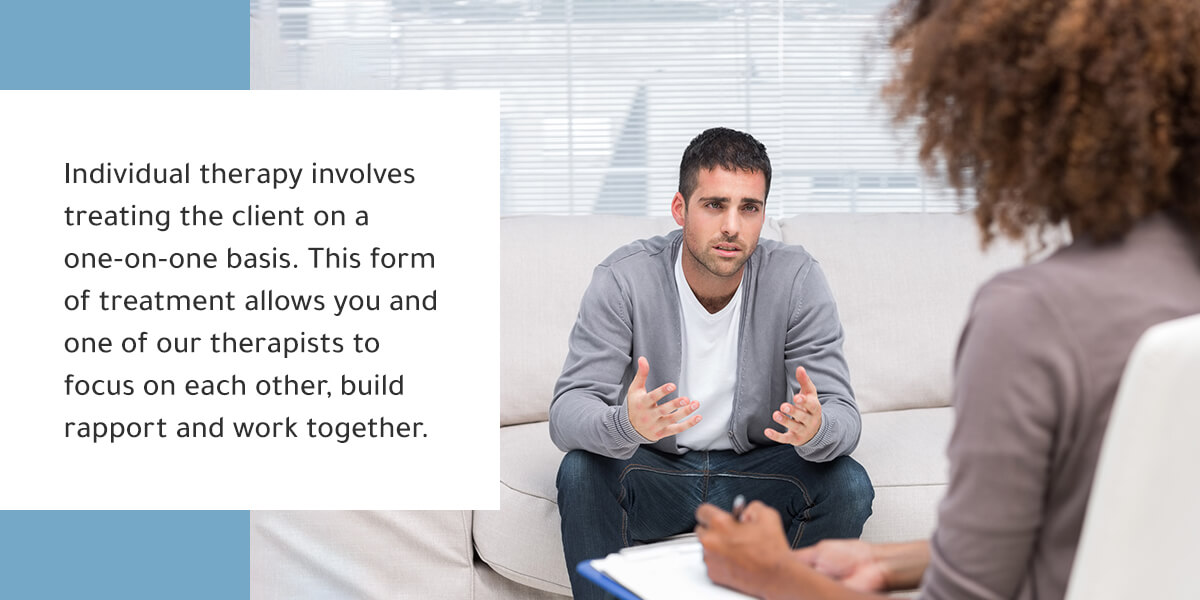 1-on-1 Therapy in Flower Mound, TX
Whether you're struggling with issues like anxiety or depression or seeking relationship advice or help, the professionals at Stanford Couples Counseling can help. We do more than just couples and marriage counseling — we also offer individual therapy sessions, particularly for people with anxiety and depression.
When you have mental health issues impacting your daily life, professionals can help. We treat various issues, from self-esteem to anger management. Individual therapy involves treating the client on a one-on-one basis. This form of treatment allows you and one of our therapists to focus on each other, build rapport and work together.
These are a few of the individual therapy services our therapists offer:
Executive counseling: If you work as an executive or in a stressful work environment, you may have trouble striking that balance between your personal and professional life or contentment and ambition. When you work with us, we can help you restore peace and harmony to your life with executive counseling.
Emerging adult therapy: As you transition from adolescence to adulthood, you'll likely go through many unexpected or challenging life changes. Through emerging adult therapy, our providers can help you overcome these vulnerabilities to help you transition into the person you'd like to be.
Sex therapy: If you're having troubles in your sexual relationship, our mental health professionals can help you pinpoint problems and provide you with the tools to properly address them.
At Stanford Couples Counseling, we offer counseling in Flower Mound and across the DFW area for your convenience. Providers can help you cope with grief, depression and tough life transitions to help you advance toward your goals.
We also provide counseling for individuals with anxiety, a condition that can bring immense daily struggles. Our experts can provide the tools to help you progress through everyday life.
Our counselors will provide customized care to address each of your unique needs. We also assess and evaluate those unsure of the services they may need. Whether you're searching for assistance in managing your anxiety or therapy for depression, we can help.
Marriage Therapy and Couples Counseling
If your relationship is struggling or you believe you could see benefits from couples counseling, Stanford Couples Counseling can help. We provide therapy to help couples improve the dynamics of their relationship and work through the issues facing it.
Whatever brings you in, our relationship counselors can help you work toward a stronger connection and build a happier relationship. Whether you're married, dating or living together, our highly trained providers can help your relationship and life. Couples counseling can provide the tools needed to understand and resolve conflict, communicate better, negotiate differences and strengthen the overall connection in your relationship.
When you schedule services with Stanford Couples Counseling, we'll help you define your goals and establish steps for reaching them. We understand that couples may feel hesitant to sign up for counseling since they are unsure of what it entails. Here's what you can expect when you schedule couples counseling with us:
A holistic approach
Highly qualified couples counseling experts
Solutions-oriented therapy
With Stanford Couples Counseling, you'll find holistic, comprehensive individual and couples counseling in Flower Mound and across our other DFW locations. We are confident in our ability to meet your couples counseling expectations and create a peaceful environment.
Whether you've been together for months or years, our counselors can help you and your partner reconnect or rekindle your passion. Our providers are extensively trained in various relationship issues and have the experience to help you and your relationship, no matter the stage you're at.
What You Can Expect From Our Flower Mound, TX Team
When you schedule mental health services in Flower Mound and across the DFW area at Stanford Couples Counseling, you can expect an easy process:
Determine your needs: We'll first discuss the issues you're presently struggling with and whether you would benefit from in-office or virtual counseling. You can present the problems you're looking for help with and any preferences you may have regarding the setting of your sessions. Defining your need is the first step of this process.
Find a therapist: We'll help you find a therapist that best fits your specific needs and goals. You can learn more about our various therapists online.
Book an appointment: You can conveniently schedule an appointment with a therapist online. You'll be able to see which therapists have availability up to the minute and decide on a date and time that works best for you. Booking online is quick and easy.
Your first appointment: After logging into our portal and filling out intake paperwork, you'll show up for your appointment. Your therapist will take time to get to know you and your needs and establish a plan to help you grow toward your goals.
Our providers offer goal-oriented care because we believe change happens through concrete, measurable goals. We are here to help you every step of the way. The experienced professional therapists at Stanford Couples Counseling specialize in various service areas to give you the help you need.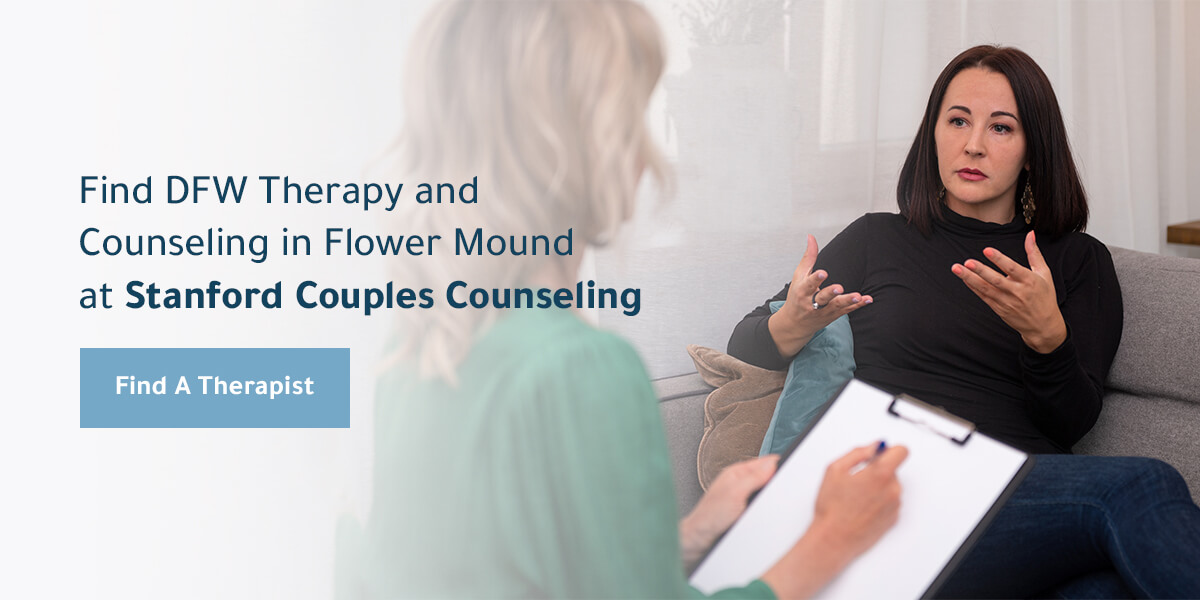 Find DFW Therapy and Counseling in Flower Mound at Stanford Couples Counseling
Everyone experiences issues in their personal or relationship life, but when these problems persist or affect their everyday functioning, professionals can help. Through various types of therapy, counselors can help you identify problem areas, establish goals and provide the tools needed to overcome these struggles.
No matter your needs for individual or couples counseling, Stanford Couples Counseling is here to help. We offer in-person appointments at our locations in Flower Mound, McKinney, Dallas, Fort Worth and Plano. Our offices are private and inviting spaces to ensure your comfort every step of the way. At Stanford Couples Counseling, you'll find highly responsive and experienced health providers eager to help you on your mental health journey.
To learn more or schedule an appointment, book online today.